Want to know what to pack? Then this post is your Ultimate Breast Augmentation Survival Kit with everything you will need for the surgery. If you are
confirmed for breast augmentation
– we can help you prepare for the procedure to make sure you are relaxed and achieve the best results possible: The three most important things to consider pre-surgery are:
Are you in the best possible health?
Have you booked time off work and someone to drive you home?
Have you packed your hospital bag?
Let's dive into everything else you need to consider in our ultimate breast augmentation survival kit.
What to pack for breast augmentation surgery?
It is important that you are as comfortable as possible both before and after your procedure, to help with your recovery process. For that reason, being prepared with some key items makes things much easier post-surgery, as you'll have easy access to everything you need. Our helpful pre-op checklist guarantees you'll have everything you need for your comfort after surgery:
A comfortable sports bra in your new breast size
A loose front-fastening top, as lifting your arms above your head will be difficult
Loose, elasticated trousers
Some cozy slippers and a dressing gown
Something to read (books, magazines or a tablet with a charger)
Wet wipes, moisturiser and lip balm
A water bottle
Some healthy snacks
A travel/neck pillow
If you are staying in the hospital overnight, pack loose, comfortable PJs and toiletries.
What should I wear to my breast augmentation surgery?
The key with any surgery outfit is comfort, so aim for loose-fitting clothes, avoiding anything with awkward straps or closures. You should also wear warm socks and a jumper, and a few extra clothing options to account for temperature changes. Keep in mind that space is limited in hospitals, so pack your items into a small to medium-sized case, preferably with wheels, so you avoid heavy lifting. Label all your luggage and try to keep everything contained within one bag.
Knowing what to expect on the day of your breast implants procedure
Another way to ensure your comfort and low stress levels are by being informed of the procedure process. Below is an outline of what the day of your breast augmentation will look like:
Step #1: A nurse will admit you to the clinic
One of our nurses will handle any required paperwork as part of the process to admit you to the hospital. You'll be taken to your room, where you can change into a hospital gown. You'll be able to store your belongings in your room and will need to remove any jewellery (ideally leave these at home!), as well as your glasses or contact lenses. The nurse will run through your health checks, including blood pressure and possibly a blood test, as part of your pre-op assessment.
Step #2: You'll see your doctor
Your doctor and an anaesthetist will visit to speak to you about the surgery and answer any questions you may have. You'll sign a consent form to confirm you are aware of the process and risks involved. Next, the doctor will outline using a pen where the incisions on your breasts will be made.
Step #3: You'll have a general anaesthetic
You'll move to the anaesthetic room, where you will lie down and have a cannula (a thin tube) placed in the back of your hand to administer the general anaesthetic. From here, you'll gently fall asleep in less than a minute.
Step #4: You'll go into surgery
The surgery will take place, which involves the doctor making an incision, through which your breast implants will be inserted either under or above the chest muscle. The doctor will then close the wound, bandage your chest and finalise the surgery (which often takes no more than 1 hour).
Step #5: You'll wake up with your new look
You will wake up in a recovery room feeling a little groggy and sore, but medication will be provided to keep you comfortable. The nurses will run through your post-operative care instructions and you will be fitted with a post-op bra. You will then be discharged into the care of your support person (friend or family member).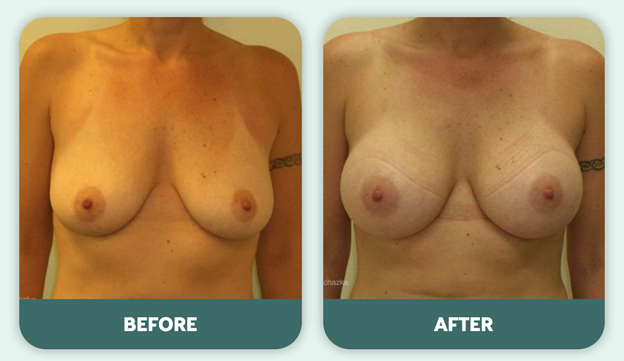 How ICCM will help you with your surgery
Many
women visit ICCM
for their breast augmentation due to our proven track record and successful portfolio of work. Our experienced team will be with you from the first consultation through the recovery process to ensure a pleasant experience that results in a revitalised new look. Book a consultation today to see if the breast augmentation procedure is right for you by calling 02 9233 3103 or filling out
our online contact form
.
Frequently Asked Questions
If you have more questions to help prepare for your surgery, see our helpful FAQ section below:
What do I need to buy for breast augmentation recovery?
We recommend that patients have the following items handy at home to help make them comfortable during the healing process post-surgery. This can include:
A form of entertainment (laptop, iPad, books, magazines, etc.)
Headphones
A sleeping mask
Nutritious, healthy snacks and meals
Refillable water bottle (hydration is key to recovery!)
A travel/neck pillow
Loose, comfortable clothing
What should I wear at home after breast augmentation?
The most important piece of clothing after breast augmentation should be your post-op garment (provided). You will
need to wear
this around the clock for a number of weeks. You will also need loose-fitting clothing to avoid anything that is difficult to put on or take off. Always opt for comfort over style during the recovery period. A wire-free sports bra can be worn whilst you are washing and drying your post-op garment.
Can I take care of myself after breast augmentation?
You will require a friend or family member to drive you home from the hospital after surgery and stay with you for a minimum of 24 hours. After this, you can look after yourself, but we recommend pre-preparing a comfortable area at home so you can relax and recover for the first few weeks. Any items in high cupboards should be brought down to avoid raising your arms above your head. You can use prescription medications to manage your pain, and our team will provide some tips to reduce swelling after surgery.
Don't forget to share this via , , , , , , , , , , , and .