The jawline thread lift is a non-surgical cosmetic procedure that utilises thread lifting to reduce sagging skin that can occur in the lower region of the face. With a non-surgical thread lift, the experts at ICCM can help you to create a more youthful contour to your facial aesthetic.
Jawline thread lifting has a profound and natural-looking effect on your look and is only a minimally invasive procedure compared to other surgical options. Thanks to the use of a local anaesthetic, we can see less potential risks and downtime.
The cosmetic surgeons at ICCM, Dr Ramin Amighian, and Dr Prochazka, are jawline thread lifting experts who hold positions as national trainers for absorbable threads. When it comes to creating a lift, thread-based procedures are a popular option, and their portfolio includes hundreds of successful treatments.
The benefits of using jawline threads
If you would like to improve the aesthetic of your face, the jawline threads under the skin results may be perfect for you. Lifting offers the following benefits:
Natural-looking results with longevity of up to two years.
Instant yet subtle visible changes.
A youthful, natural look, reversing the mild to moderate signs of skin aging.
A solution without the need for long periods of downtime
If you are aged within your late forties to early sixties, facelift surgery will provide a more extreme result to reverse the signs of ageing. Patients younger than 45 with slight sagging in the face are more suitable for threads.
How is the jawline thread lift procedure done?
The improvements to your face with this jawline thread lift procedure are performed with temporary absorbable sutures. We use a certain number of threads to gently lift the skin, tightening the face with minimal discomfort. This process further benefits the skin by creating a healing response that encourages long-lasting increased collagen production. This helps the patient to maintain strong and supple skin, preventing excess skin and wrinkles from forming too early.
With local anaesthesia, our experts can quickly improve the face with a jawline lift in under 60 minutes. The treads are inserted deep under the skin of the face using fine needles which are not visible on the outer surface. This proven form of cosmetic surgery is a treatment that can provide a look that many patients would like to create an ideal, youthful aesthetic for the face.
The jawline thread lifting treatment creates a tightening of the face that can help subtly turn back the clock.
Will the new look of my face be permanent?
While the ageing process is inevitable, this treatment can slow it down. The facial threads inserted at our clinic will dissipate over time; however, they can easily be re-done after a few years to refresh your look thanks to the low-risk nature of the procedure.
Improving the skin of the face is one simple way to take your look to a new level, which can also be further improved by other treatments that focus on the eye areas. All of this is considered during your consultation, a time to assess your needs and map out a plan that will deliver successful results you can be proud of.
What does the jawline thread lift cost?
The cost of the jawline thread lift starts from $1800 or $30 per week. If interested, contact us to book the first step in determining if this is the right treatment for your cosmetic goals with a consultation. While running this assessment, we will also be able to offer exact pricing for your situation. Different patients require different amounts of work, which can alter the price.
Contact us today so our team can evaluate your current situation and ensure that the results of this treatment will match your goals. As one of the most trusted facial clinic options in Sydney, our doctors are experts when it comes to lifts of the eye and face areas and a range of other cosmetic procedures. We will answer any questions you have about the treatment and ensure you get the best care around.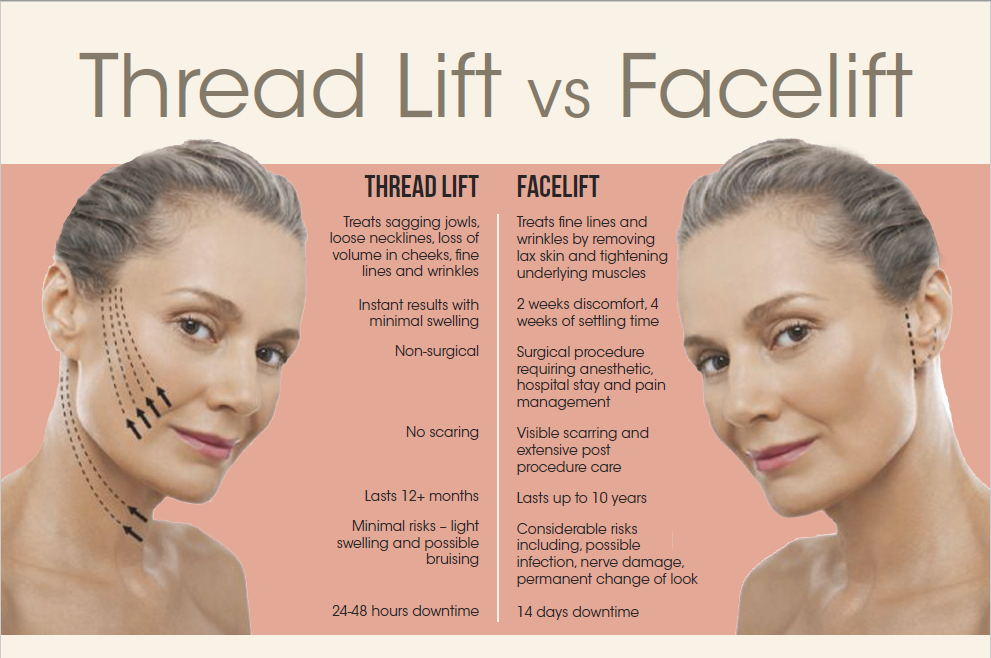 The jawline thread lift treatment varies from the facelift procedure offering Sydney a lower-impact way to contour their facial regions. Image Source: https://centralwellness.com/aesthetics/thread-lift/
Frequently Asked Questions
ICCM doctors use TGA approved absorbable threads. This is newest technology replacing older permanent threads that returns highly successful results. Absorbable threads lead to fewer complications and can be combined with dermal fillers, fat transfers, or various other skin rejuvenation procedures.
If you live in Sydney and are experiencing mild to moderate sagging in the lower facial area, visit our clinic to discuss the lifts available. Younger people have tissues that are not ready for in-depth surgery, making the jawline thread lift a more preferred option for you.
Other skin resurfacing/skin tightening procedures are also on offer at our clinic, and we will work with you to determine the best option for you. If the following conditions apply, you may be a good jawline thread lifting candidate:
Mild to moderate sagging in the lower face areas
Laxity of the skin around the jowls or neck
A previous facelift or neck lift that is wearing off
Weakened tissue around the lower face due to recent weight loss
The results of the jawline thread lift can include:
Added volume or a lift to the lower face areas
Revitalised neck areas
Improved asymmetry of the jawline and lower face
Revitalised look around the jowl area
We will not move forward with any option until you have been given time to think about whether or not our recommendations are right for you. Our staff are always on-hand to answer any questions you may have, ensuring your complete comfort and peace of mind before proceeding.
The jawline thread lift procedure is proven to be low risk, especially when it is performed using high-level equipment in our Sydney clinic. This, combined with the skills of the experts at ICCM, who have an in-depth portfolio of successful results, means all of our clients have experienced very safe conditions when improving their appearance.
This procedure is classed as a non-invasive option with no risk of scarring or permanent damage. There may be very rare cases in which irritation, bruising, rippling, infection, or visible sutures appear; however, these issues rectify themselves naturally after a few days. You will have the full support of the experienced staff at our clinic to ensure your aftercare is successful.
One main reason why people have more than one procedure performed is the low risk and short recovery time of jawline thread lifts. By combining this option with other non-surgical procedures at our clinic, you can achieve an overall refreshed look that will take your aesthetic to a new level.
For more comprehensive and noticeable results, many people talk to the experienced staff at ICCM about improving their appearance with other non-surgical anti-aging treatments. Jawline threading along with other options creates a positive and natural change with minimal recovery time, leaving your schedule relatively unaffected.
If you are interested in other reverse aging options to improve your appearance, mention this during your consultation. Our staff will take the required time to explain which treatments are available to you to ensure your cosmetic journey is a success offering you a refreshed look for many years to come.
Before proceeding with any surgical procedure, patients should seek a second opinion from qualified healthcare practitioners.
The information on the website is for general guidance only and cannot be used as a basis to make a surgical decision, an initial consultation with our surgeon is required to help patients make an informed decision before proceeding with any surgical procedure.