Are your hands showing your age? As we age, our hands can become wrinkled and boney due to volume loss and collagen decline. Fat injections to the hands can help restore a more youthful look by enhancing these regions. Be it ageing or extreme weight loss, the "skeletal" appearance of your hands can be rectified with a subtle fat transfer to hands procedure at ICCM.
The fat transfer to hands procedure restores volume while hiding bones and veins that become more evident due to fat loss or ageing. The two-in-one procedure takes fat from one area of the body that has the excess to spare and uses it to fill the hollowed areas of your hands.
As a very safe and simple procedure, fat injections in hands require microcannulas and a modern procedure that offers the following:
Long-lasting results
A youthful look for your hands
The slight reduction of a problem area elsewhere on your body
Significant improvement to the aesthetic of your hands
Reduce and sculpt areas like the love handles or stomach while creating a youthful appearance for your hands with our safe, technique.
The fat transfer to hands process
A relatively simple procedure, the fat transfer to hands process involves a small amount of fat to be taken from an area on the body that has excess. For most patients, this is commonly the hips, outer thighs or stomach. A small amount of roughly 25-30mls is removed and injected into the hands to increase fullness.
The results can last up to three years or longer, depending on various lifestyle factors and your age.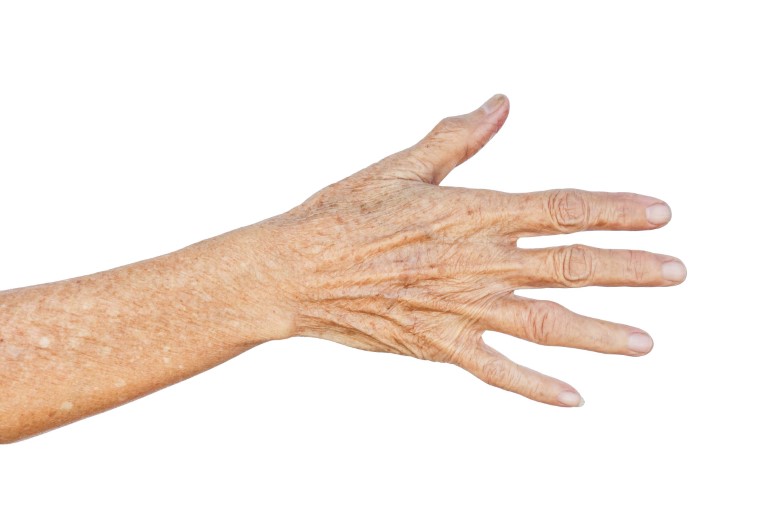 Is the ageing process causing your hands to look boney and wrinkled? Fat transfer to the hands procedure can help them to look youthful once again.
The next step is a consultation at ICCM
If your hands cause you distress and you would like to do something about improving their look, the first step is a consultation with the experts at ICCM. We will assess your hands and discuss your expectations to not only ensure this is the right procedure for you but also provide an in-depth explanation of all the requirements.
One of our main priorities is the care of your physical and emotional health and achieving aesthetic goals. We are here to answer any questions you may have, ensuring you are completely comfortable with the procedure before moving forward.
Please be prepared to discuss the following topics during your consultation:
Past and present medical conditions
Current medications
Past surgeries, cosmetic or otherwise
Body concerns
Goals for surgery
Questions you may have
Associated costs
Reduce and sculpt areas like the love handles or stomach while creating a youthful appearance for your hands with our safe, liposculpture technique.
How much does a fat transfer to hands cost?
The cost of this procedure is linked to how in-depth it needs to be. As a result, the costs will vary. It is very easy for us to determine the price for your situation during your consultation, however, and we will provide you with a no-obligation quote straight away.
ICCM ensures reasonable, realistic pricing across all of our cosmetic offerings, along with payment plans to make sure that achieving the look that boosts your confidence is achievable for all.
Choosing ICCM for your fat transfer to hands procedure
Patients feel very comfortable in the safe hands of Dr Tony Prochazka, who has over 20 years of experience in cosmetic surgery and non-surgical injectable treatments. His attention-to-detail ensures positive results, and our portfolio of work speaks to this point.
The ICCM team prioritises patients' safety and well-being from the convenient location of our central Sydney clinic on Macquarie Street. Your hands are in good hands at ICCM.
Frequently Asked Questions
Your recovery time depends on how in-depth your procedure will be. Swelling can be expected for at least 48 hours after the procedure up to seven days in extensive cases. There will also be some slight bruising on the hands and donor site.
The experienced cosmetic surgeons at ICCM have performed thousands of fat transfer to hands treatments and their skill level increases the already proven safety record of the process. Any risks associated with the procedure are minimal, and they will be explained to you during your patient consultation.
Yes, this procedure is used to improve other irregularities, also often caused by signs of ageing or weight loss. From the softening of ageing lines or dents to creating fullness in the face, we can perform this process to rectify a number of body issues. Common requests are about transferring fat to cheeks or to the face.
The duration of this procedure depends on the areas the fat is being harvested and grafted from. For the hands, it will take roughly a minimum of an hour; up to anywhere between four and five hours.
Before proceeding with any surgical procedure, patients should seek a second opinion from qualified healthcare practitioners.
The information on the website is for general guidance only and cannot be used as a basis to make a surgical decision, an initial consultation with our surgeon is required to help patients make an informed decision before proceeding with any surgical procedure.