What is an eyebrow thread lift, AKA brow lift?
The brow thread lift is a low-impact way to rectify sagging skin in the upper region of the face, a common result of ageing. This less invasive alternative to a surgical facelift offers less risk, less downtime and a cheaper cost.
So if you want to enhance your appearance with immediate, natural-looking results you should opt for an eyebrow thread lift. Sydney residents can visit our clinic in the CBD, or contact us today to book a consultation or find out more information.
A brow lift is a minimally invasive cosmetic surgery procedure that gently lifts your skin to give it a more youthful appearance. Temporary sutures are used to produce a subtle lift in the skin, as opposed to removing loose skin, via a surgically invasive procedure. This prompts a healing response to stimulate collagen in the area whilst giving the subtle effect of tightening the face.
A brow lift is a minimally invasive form of cosmetic surgery that will rejuvenate your face and give you a more youthful appearance.
What are the benefits of a brow lift?
There are a number of benefits of having a brow lift:
The results of this procedure can last up to two years
You will experience immediately visible, yet subtle results
Regain a more youthful yet natural look
Lift the brow to help open the eyes and combat sagging eyelids
Less downtime is required than a full facelift
Am I a candidate for a brow lift?
Good candidates for a brow lift include healthy men and women between the ages of 30 and 50 with any of the following concerns:
Deep horizontal forehead creases
An unnaturally tired appearance created by low-positioned eyebrows causing saggy eyelids.
If you are aged in your late forties to early sixties, this facelift surgery procedure may be better suited to produce the desired results.
This step-by-step procedure shows how thread lifting works to tighten the face creating a younger look.
Are there any risks involved?
This procedure is carried out under local anaesthetic and classified as low risk. It is made safer by the fact that the experts at ICCM have an in-depth portfolio when it comes to threading. As this is a minimally invasive procedure there will be no risk of scarring or permanent damage. In rare cases, there may be a risk of:
Irritation
Bruising
Rippling
Infection
Visible sutures under the skin
All of these situations rectify themselves naturally within a few days, and none of them has been experienced by ICCM patients. All of this will be explained, in-depth, during your consultation with our knowledgeable team.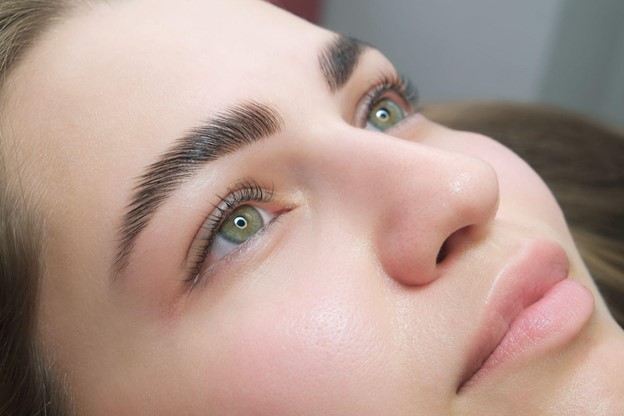 A brow lift uses fine threads to give ageing skin a more youthful, rejuvenated appearance.
What to expect during your consultation
A personal consultation with your doctor is the first step for any patient considering a brow lift. We will assess your physical and emotional health, discuss your aesthetic goals, and address any questions or concerns you may have. Your physical evaluation will include an assessment of your bone structure and underlying facial tissues, as well as your skin thickness, elasticity and texture.
We will also need to evaluate your forehead contour, the muscle activity in the area, the brow position, as well as the amount of redundant eyelid skin and the position of your hairline. For more complete rejuvenation, we may discuss additional procedures that can be performed along with a brow lift. Patients frequently combine the procedure with:
Eyelid surgery to address upper eyelid droop or bags beneath the eyes
Facelift to remove excess skin and tighten facial muscles
Skin treatments such as chemical peels to improve skin tone and minimize fine wrinkles
How is the brow thread lift procedure performed in Sydney?
When performing a brow lift, Sydney patients will have temporary sutures placed under the skin to gently lift and tighten the brow. This process will also create a healing response and increase collagen production. The primary advantage of increased collagen is the ability to maintain strong and supple skin, preventing wrinkles from forming too soon.
The non-surgical treatment is performed under local anaesthetic and completed in under 60 minutes. The threads are inserted with fine needles, deep under the skin so they are not visible. When performing the procedure, it is critical for your doctor to know which parts of the brow be lifted and why. This is something that will be discussed during your initial consultation.
What can I expect from the results?
The results can be seen immediately and most people who undergo the procedure are very pleased with the outcome. You will see the results continue to progress as the body naturally produces increased levels of collagen in the treated area, with the final results being seen 6 weeks to 6 months after the procedure.
Although a brow lift cannot stop the ageing process, patients are typically very happy with their facial appearance for years following their procedure. Additional improvements, such as a neck lift or blepharoplasty, can be performed at a later time to maintain a more youthful look.
What does the eyebrow thread lift cost for Sydney patients?
The cost starts from $1800 or $30 per week. A consultation is required to assess your needs and ensure this is the right path forward. After this consultation, exact pricing will be provided as costs may vary per situation.
Along with an assessment to ensure the planned cosmetic procedure matches your goals, you will be able to ask any questions you have before moving forward. It is the role of all ICCM staff to ensure each patient is comfortable during every step of the cosmetic process.
Why choose ICCM for your brow thread lifts?
As experts in all brow lift procedures, our team of cosmetic doctors at ICCM, Dr Ramin Amighian and Dr Prochazka are national trainers for absorbable threads. With hundreds of successful thread lift procedures under your belt, you'll have complete peace of mind as you work with them towards your desired look.
The primary difference between a thread lift and facelift is a low impact and less required recovery time. Image Source: https://centralwellness.com/aesthetics/thread-lift/
Frequently Asked Questions
For all unanswered questions, visit this section or contact us for more information.