What is breast augmentation?
Breast augmentation is a form of cosmetic surgery that is used to enhance the size and shape of your breasts through the use of breast implants (typically referred to as a "boob job"). During this procedure, breast implants are carefully placed behind the natural breast tissue or muscle to enhance their appearance, either increasing the size of your breasts or making them more symmetrical.
Do you ever feel that your breasts are too small, asymmetrical, or just not the perfect shape for you? If so, you may want to consider having breast augmentation. As each patient has a different chest wall and body type, we work closely with you to tailor the type, size, and placement of your breast implants so they're perfect for you.
Read on for information about one of Australia's most popular cosmetic surgeries, and find out more about what it's like to have breast augmentation in Sydney with us at ICCM.
Breast augmentation can be performed as a stand-alone procedure or in conjunction with a breast lift.
What are the benefits of having a breast enhancement?
There are many benefits of having a breast enhancement, both physical and mental:
Improve the size and shape of your breasts
Get symmetrical breasts and nipples
Boost your self-confidence
Give you the ideal breast shape and size for you
Allow you to wear better-fitting clothes
Feel more feminine
Give you a more youthful feel
Surgery is safe and with minimal complications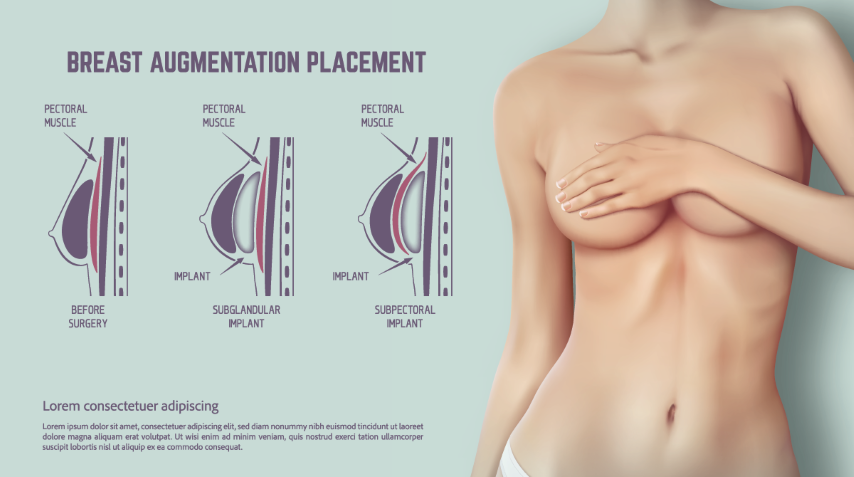 A one-on-one consultation with your doctor is the first step as we will assess your physical and emotional health, discuss your aesthetic goals, and address any questions or concerns you may have.
Am I a good candidate for breast implant surgery?
If you are considering having a 'boob job' in Sydney and wondered what makes a good candidate, then use our checklist below. Good candidates for the procedure:
Feel they have small breasts or no breasts and would like to achieve a fuller bust
May have lost weight or breastfed and feel their breasts have deflated or have lost that upper cleavage look of the breast
Have asymmetrical or tubular breasts
Feel a lack of confidence in the visual aesthetic of their chest area and breast shape
How is breast enlargement surgery carried out at ICCM in Sydney?
If you choose to have your 'boob job' with us in Sydney, this is what you can expect:
Consultation
At your breast augmentation consultation, we will assess your physical and emotional health, discuss your aesthetic goals, and address any questions or concerns you may have. Our doctors will then determine the best method to achieve your desired look, feel, and shape for you. This includes identifying where the breast implant should be implanted - i.e. below or on top of your pectoral muscle.
Breast augmentation procedure
Your cosmetic doctor will make a small 4-5cm incision just underneath your breast (in the crease), to minimise any visible scarring. The breast implants are carefully placed behind the natural breast tissue or muscle. The surgery is performed in a hospital as a day procedure and carried out under light general anaesthetic.
Recovery
Breast augmentation recovery varies from person to person and depends on your personal circumstances, such as career and lifestyle. For placement of the implant under or on top of the pectoral muscle, we generally recommend at least a week off work.
For patients who work from home/on a computer, we recommend a return after day four. Our doctors will provide you with a comprehensive list of pre and post-operative care instructions that you must abide by in order to obtain a complete and efficient recovery.
How much does breast augmentation cost in Sydney?
Our prices for breast augmentation surgery in Sydney start from:
$8,490.00 (round implants)
$9,990.00 (teardrop implants)
The $150 consultation fee is redeemable should you go ahead with the surgery
PLEASE NOTE: These costs are general, and depending on your circumstances, they are subject to change. An exact cost applicable to your situation will be provided during your consultation.
Our doctors take the time to listen to you. Once we establish your personal requirements, we measure the width of your shoulders, breasts, and the space between the nipple to your breast crease.
Why Choose ICCM for your breast augmentation in Sydney?
With over 20 years of experience and thousands of collective hours of surgery, our leading cosmetic doctors recognize the importance of tailoring treatments directly to you to ensure you walk out of our clinic with a newfound sense of confidence
Not only are we staffed with outstanding doctors, but we pride ourselves on providing a network of cosmetic specialists and support teams to make sure you feel comfortable at all times.
How to book an appointment with ICCM in Sydney
To book an appointment or to make an inquiry you can fill out our online contact form, email us at [email protected] or contact us by telephone on 02 9233 3103 (Sydney CBD Clinic) or 02 4605 9024 (Campbelltown Clinic).
FAQs
Below you can find the questions that we're most frequently asked about breast augmentation surgeries:
Any surgical or invasive procedure carries risks. Before proceeding, you should seek the opinion of an appropriately qualified health practitioner.
Results from our previous clients
Below you can see some of the great results that our previous clients have achieved after having a breast enhancement in Sydney with ICCM.