Why do women in Sydney love breast augmentation at ICCM?
Do you ever feel that your breasts are too small, asymmetrical, or just not the perfect shape for you? If so, you and many other women in Sydney have opted for the best breast augmentation procedures in town. The benefits of breast augmentation are colossal, and by choosing the best breast augmentation Sydney has to offer, you can guarantee the following:
Improve your self-esteem
Give you the perfect breasts for you
Allow you to wear better-fitting clothes
Give you a more youthful feel
Am I a good candidate for breast augmentation?
If you are considering breast augmentation surgery and wondered what makes a good candidate, then use our checklist below. Good candidates for the breast augmentation procedure:
Feel they have small breasts or no breasts and would like to achieve a fuller bust
May have lost weight or breastfed and feel their breasts have deflated or have lost that upper cleavage look of the breast
Have asymmetrical or tubular breasts
Feel a lack of confidence in the visual aesthetic of their chest area and breast shape
How does breast augmentation work?
Breast augmentation (otherwise known as mammoplasty) is a form of plastic surgery. For a more full or shapely look, you can opt for the best sydney breast augmentation experts right here at ICCM. As each patient has a different chest wall and body type, we work closely with you to tailor the type, size, and placement of breast implants for your desired outcome. Breast augmentation can be performed individually or in conjunction with a breast lift.
Step one: We will assess your physical and emotional health, discuss your aesthetic goals, and address any questions or concerns you may have.
Step two: During your personalised initial consultation, our surgeons will determine the best method to achieve your desired look, feel, and shape for you. This includes identifying where the breast implant should be implanted - i.e. below or on top of your pectoral muscle.
Step three: You can discuss with your cosmetic surgeon about the most natural breast tissue implants for you
Will the incisions from the procedure be visible?
Our cosmetic surgeon's preferred technique for breast augmentation is made via a small 4-5cm incision just underneath the breast, in the crease. This is the most common place for the incision as it's very discreet, and the placement of the implants is more even.
Breast augmentation is a surgical or invasive procedure. Any surgical procedure carries the risks of scarification. Scars will often fade over time, along with the fact that they will be easily hidden under clothing should result in a low-impact aesthetic in terms of scars.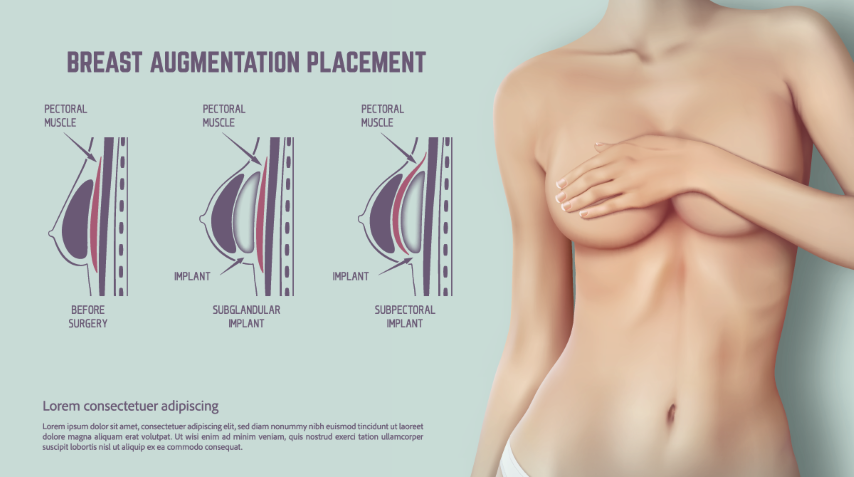 A one-on-one consultation with your surgeon is the first step as we will assess your physical and emotional health, discuss your aesthetic goals, and address any questions or concerns you may have.
What you must know about the implants
Breast implants are not only used for cosmetic surgery purposes but are also essential in upkeeping a person's self-esteem following a mastectomy for breast cancer. You need to know that there are two basic types of breast implants used, Saline and Silicone.
Which type of breast implant feels the most natural?
Saline implants are silicone shells that are filled with sterile saltwater. Silicone implants are filled with a plastic gel and have been proven to feel more like natural breast tissue.
What size implants should I use?
Our surgeons take the time to listen to you. Once we establish your personal requirements, we measure the width of your shoulders, breasts, and space between the nipple to your breast crease. This allows us to work out the proper breast size in order to achieve symmetry and proportion for your body.
It is important to consider realistic expectations for your breast size, aiming for a mixture of comfort and a natural appearance. Our well-experienced cosmetic surgeons in Sydney and Campbelltown will be able to discuss your options with you during your consultation as well as give you an opinion from an appropriately qualified health professional.
What type of implants are used?
ICCM only uses a certified, cohesive, non-liquid silicone gel. When the implant is put under moderate pressure, it will change shape, and when that pressure is released, its shape will bounce back. The cohesiveness of the gel ensures no leakage if any damage was to happen to the implant.
There are two shapes of implants:
Round implants – which have an even spread of volume
Anatomically shaped implants (teardrop) – which are inspired by the natural shape of the breast and follow the females' natural shape.
The cohesive gel implants have two different coatings:
Textured or rough surface implants – these reduce the rate of capsular hardening or contracture and have a lower rate of pocket movement.
Smooth implants – Less chance of the implant wrinkling or dimpling later in life.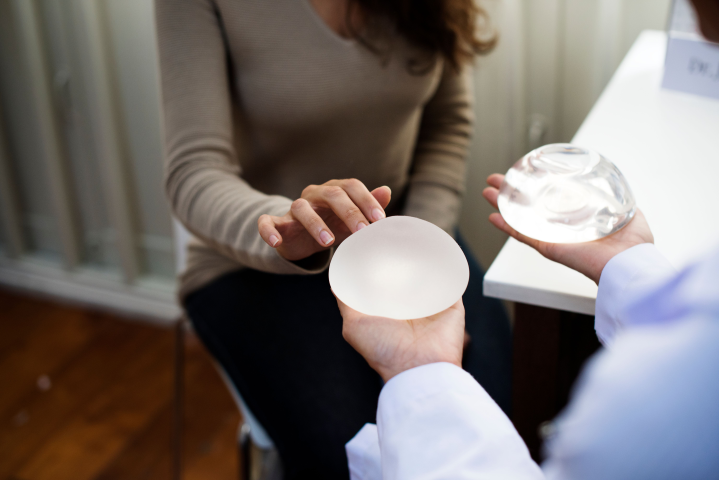 Our surgeons take the time to listen to you. Once we establish your personal requirements, we measure the width of your shoulders, breasts, and space between the nipple to your breast crease.
What is the recovery time after the surgery?
Recovery or downtime following a breast augmentation procedure varies from person to person and depends on your personal circumstances, such as career and lifestyle.
For placement of the implant under or on top of the pectoral muscle, we generally recommend one week off work. For patients who work from home/on a computer, we recommend a return after day four. Our surgeons will provide you with a comprehensive list of pre and post-operative care instructions which you must abide by in order to obtain complete and efficient recovery.
How much does breast augmentation cost in Sydney?
Now that you've done your research and have decided that breast augmentation or "boob job" is the procedure for you, you're wondering how much does it cost?
Whilst it may be impossible to find an average figure online, you need to understand the factors that are taken into consideration during breast surgery cost determination. These are:
Surgeon's fees
Anaesthetist's fees
Cost of implants
Cost of follow-ups
Having said that, you can find our prices below.
Price for breast augmentation
$8,490.00 (round implants)
$9,990.00 (teardrop implants)
$150 consultation fee is redeemable should you go ahead with the surgery
NOTE: These costs are general, and depending on your circumstances, they are subject to change. An exact cost applicable to your situation will be provided during your consultation*.
Why Choose ICCM for Breast augmentation?
Experience
With over 20 years of experience and thousands of collective hours of surgery, our leading cosmetic surgeons recognize the importance of tailoring treatments directly to you to ensure you walk out of our clinic with a newfound sense of confidence.
Happy customers
We are conveniently located centrally in Sydney on Macquarie Street, and so offer treatments to all patients in the surrounding community.
Not only are we staffed with outstanding surgeons, but we pride ourselves on providing a network of cosmetic specialists and support teams to help you feel comfortable and at home.
What else?
Our healthcare professionals are wonderfully helpful for those who feel they need a breast lift. Additionally, if you are worried about the fact that this invasive procedure carries risks before proceeding, you should seek a second opinion from an appropriately qualified health professional, one of our many cosmetic specialists will be more than happy to discuss your options with you.
Outstanding results are what we thrive for. We are not satisfied until you, the patient, are satisfied. So why not come in today for a consultation to find out just how we can help you get the perfect breasts.
NOTE: Prolonged breastfeeding will increase the possibility of stretch marks on the breasts and can make the breast drop, which may or may not require surgical correction.
Frequently Asked Questions
For unanswered questions, feel free to visit this section:
As with all invasive surgeries, breast enhancement surgery comes with a certain degree of risk and side effects. Our cosmetic specialists use only the best surgical techniques to ensure minimal risk.
Proving that there are no complications and everything goes to plan, then yes, breast enhancement surgery can be considered safe and will result in the perfect breast shape for you.
No, breast augmentation surgery carried out for cosmetic reasons is not covered by Medicare. If your breast surgery was carried out as an essential surgery, then you can contact your health insurance policy to find out the extent of coverage you will be offered.
For breast augmentation surgery, a general anaesthetic is used, but light sedation may be more suited to some patients. We will be able to offer more information in regards to this during your consultation.
You can choose to have breast augmentation before or after pregnancy. However, to achieve the optimum results, we recommend the following:
Waiting six months after childbirth and/or breastfeeding before having surgery
Delay pregnancy for two years after breast augmentation
There is no evidence to prove that breast augmentation affects breastfeeding. If you have any concerns, consult with your plastic surgeon.