You may work very hard at the gym and watch your diet to remove excess fat, define and tone your chest. Sometimes, however, some stubborn pockets of fat seem unaffected by these positive lifestyle routines. Chest Liposuction can assist with this via a quick and easy process that shapes and creates a look you will be proud of.
As part of the range of cosmetic medical procedures offered by the skilled team at ICCM, chest liposuction allows men a chance to feel more confident with their shirt off while creating a more desirable figure in tailored clothing.
Book a consultation with ICCM today to access a quick way to improve self-confidence and tone specific areas with little downtime due to a safe and straightforward procedure.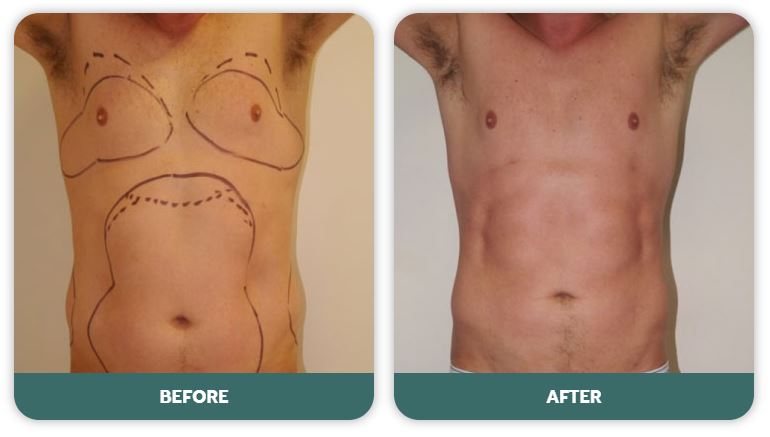 The ICCM team offers tumescent liposculpture treatment to tailor a look that suits your chest goals. Contact us for a consultation today.
What benefits will chest liposuction offer?
The primary benefit of chest liposuction is to remove excess stubborn fat from the area with minimal downtime. Our expert surgeon uses a process called tumescent liposculpture, which allows you to return to your normal routine and activities quicker.
When compared to other methods of liposuction, the tumescent liposculpture technique is a precise way to remove stubborn areas of fat in a less invasive way. The use of local anaesthesia creates a comfortable and low-risk experience.
Our cosmetic surgeon has a high level of control when removing the fat which means minimal scarring and the ability to craft the shape to your specific wants. The tumescent method creates a skin tightening effect which results in a smoother final look. This cosmetic procedure can help you increase your confidence and make you feel more comfortable in your body.
The next steps if you are considering chest lipo
If the issues and solutions presented above sound like they may positively impact your life, the next step is a personal consultation with one of the talented surgeons at ICCM. There are a few reasons why this is an important and beneficial step in the process, including:
A chance to determine which procedure is best suited to your needs
The opportunity to ask all of the questions you may have about the process
A chance to understand the risks involved with the procedure
The consultation will provide both you and our surgeons a clear path forward along with the peace of mind and comfort that the surgical treatment decided on works in line with your body goals. Our team aims to address any of your concerns, confirm your suitability and work to ensure a successful outcome.
It is important that you are prepared to discuss a range of topics during your consultation, along with undergoing an assessment of your physical and emotional health.
This assessment will feature:
A discussion about the current or past medical conditions that you experience
Information about any medications or supplements you are taking that may interfere with the process
Consideration of any past treatments (if relevant)
Information about the procedure, results and recovery process, including the answers to all of your questions
Are you working hard at the gym but not getting the results you'd like? Get in touch with the team at ICCM about how to achieve a chest that will build your confidence levels.
How much does chest liposuction cost?
While we understand that cost is a significant consideration when looking at the possibility of cosmetic surgery, each patient has different requirements which vary the price considerably. As a result, prices are determined by the complexity and size of your procedure. For this reason, we require a consultation to assess your needs and provide the information required to determine a specific cost.
Once we have performed your assessment, our team will be able to provide you with an exact, no-obligation customised quote and the time for you to consider if you would like to move forward with it. To help you understand a rough range of what the chest liposuction procedure may be, the starting price is $4,500 or $30 per week as part of our helpful instalment plan.
Why consider ICCM for your procedure?
First established in 1971, ICCM clinic in Sydney offers a range of non-invasive and low-impact treatments to help you look and feel your best. We feel it is essential for everyone to have confidence in their bodies and work hard via various treatments to help them achieve it.
Our years of experience include the fact that we are among one of the first cosmetic medical clinics in Sydney to utilise the latest techniques in thread lifting, fat transfers, dermal fillers and anti-wrinkle injections.
Our team features some of Australia's finest cosmetic surgeons
All of our cosmetic surgeons have in-depth experience with chest liposuction procedures and a comprehensive assortment of the latest plastic surgeries and non-surgical procedures.
The ICCM team at the Sydney clinic focuses on patient care and satisfaction, working to identify your concerns and creating a realistic path forward that considers your lifestyle and expectations. Service, not sales, is our promise to our clients.
Frequently Asked Questions
With chest liposuction you can achieve a natural, realistic look that is aligned with your goals. A natural, toned shape that is healthy and in line with your specific body aesthetic is a good place to start.
During chest liposuction, a small cannula is used to remove excess, unwanted fat. Our experts will discuss this during your consultation, working closely with you to find suitable results that you will be happy with to boost your self-esteem.
One of the primary benefits of using local anesthesia in this procedure is the quick recovery time. Patients can often leave the surgery within 30 minutes of completion. If you have a physically low-impact job role, such as an office-based position, and can avoid heavy lifting you should be able to return to work in two to three days.
Each patient will experience a different healing time. It is normal to experience slight swelling, inflammation, or minimal pain, but this is not long-lasting and will all subside naturally over time. Any pain that you may experience can be managed with over-the-counter medications.
You will be required to wear a compression garment for a number of weeks following your procedure.
During the chest liposuction procedure, the excess tissue and fat cells removed from our patients will not return. If you maintain a healthy lifestyle, complete with an effective exercise routine and a good diet there is no reason for your chest aesthetic to change apart from the invisible process of ageing.
If there is to be any scarring, it will be very minimal as this process improves skin elasticity while removing fat. It does this by stimulating the production of collagen. Secondly, the fact that only a small cannula is used to draw the fat from the chest means that only a minimal incision need be made. Over time, the small scars will fade with the correct level of skincare.
By avoiding large scars, the benefits of this procedure for your skin are significant. Remove fat and the appearance of weight to create a more desirable look today.
Chest Liposuction is a widely used procedure that has a very good safety record. In cases where things go wrong, inexperienced operators are often to blame. At ICCM this is not, and never has been an issue due to our staff's experience and training. An experienced cosmetic surgeon makes all of the difference to our patients.
It is, however, important to understand that there is an inevitable amount of risk with any cosmetic surgery or related treatment. The team at ICCM has performed many of these procedures and experienced no adverse reactions. We have achieved positive results for all of our patients. During your assessment, the rare associated risks will be discussed with you to ensure you are aware and comfortable before proceeding.
Absolutely, in fact, many men in Sydney are patients who have a chest reduction and also consider the procedure for other areas of their bodies, such as the love handles (flanks) or the stomach. The elusive high definition 6-pack can be hard to achieve with exercise; make an appointment to see a specialist about removing weight to improve this.
It is always important to ensure that these treatments are necessary and beneficial for your body goals, so it is vital that you raise the possibility of other procedures during your consultation.
There can also be advantages to combining multiple procedures worth considering. The primary benefit here is making use of the downtime and recovery process from more than one procedure. If you are interested in targeting multiple problem areas, let our team know, and we will detail the treatment options available to you.
You should be able to see the results of your treatment immediately after the procedure, and they will become more apparent as your swelling subsides. It can take up to six months to achieve the final results, at which time you will enjoy a flatter, firmer chest area. You may notice some scarring following surgery, although these will generally fade over time. Your surgeon will do their best to conceal as many scars as possible within the natural contours of the body.
Before proceeding with any surgical procedure, patients should seek a second opinion from qualified healthcare practitioners.
The information on the website is for general guidance only and cannot be used as a basis to make a surgical decision, an initial consultation with our surgeon is required to help patients make an informed decision before proceeding with any surgical procedure.