Liposculpture uses an advanced technique that works toward removing excess fat deposits in areas that are resistant to exercise and diet. The treatment is effective in contouring a number of areas of the body, including the abdomen and love handles, arms, thighs, knees and ankles, chest and upper back, cheeks, chin, and neck.
ICCM offers a safe procedure for liposculpture, Sydney residents can trust, while being comfortable they are in the hands of skilled and experienced professionals. Book a consultation at which we will assess your current situation and discuss your goals. From here we will be able to determine if this is the right path forward for you, or if a different procedure may be better suited to your situation.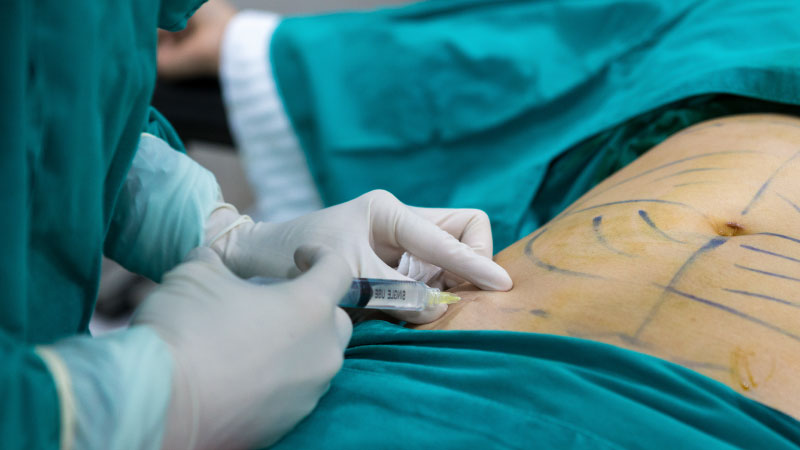 The liposculpture treatment is effective in contouring a number of areas of the body, to target stubborn pockets of fat.
Why should I consider Liposculpture?
Our liposculpture Sydney treatment is one of the most commonly performed cosmetic medical procedures and is suitable for those seeking to sculpt and tone their body shape. We offer a treatment known as excess fat tumescent liposculpture, which is an advanced surgical technique that permanently removes excess fat deposits in areas that are resistant to exercise and diet.
It is an increasingly popular alternative to traditional liposuction for men and women seeking a less invasive treatment. The procedure does not usually require a general anaesthetic.
Tumescent is a word that means firm or swollen.
In relation to this procedure, tumescent refers to the fact that a large amount of local anaesthesia is injected into the fat that is to be removed. This usually eliminates the need for general anaesthetic. The injected local anaesthetic also constricts blood vessels, which results in minimised surgical blood loss.
What are the benefits of liposculpture?
Liposculpture is the least invasive way to target and remove stubborn pockets of fat while providing short downtime and minimal bruising. Much of this is due to the fact that it only requires a small incision site.
This procedure is also the most precise fat-removing method offering the following benefits:
Only a small cannula is required which not only provides more control over the procedure but also lowers the risk of taking too much fat
The procedure creates a small incision site due to the tiny diameter of the cannula. This minimises the chances of scarring and leads to lower required recovery times
A local anaesthetic is all that is required for this procedure which also contributes to a lower recovery time as opposed to procedures that require a general anaesthetic
Increased skin tightening and contraction due to a stimulation of collagen production. As fat cells are removed, a positive trauma is made to the cells stimulating collagen production, which tightens the skin around the treated areas. This lowers the risk of loose skin post-procedure which other forms of liposuction do not necessarily provide
What should I expect at the consultation?
If you are interested in undergoing liposculpture, we recommend that you come in for a personal consultation so that you can discuss your expectations. A personal consultation with your surgeon is the first step for any patient considering cosmetic surgery.
We will assess your physical and emotional health, discuss your aesthetic goals, and address any questions or concerns you may have. Our primary goal is to ensure that you select the right path forward to achieve your aesthetic goals. If not liposculpture, we will be able to suggest the most appropriate course of action.
Issues you should be prepared to discuss during the consultation are:
All medical conditions, both past, and present
Current medications, including nutritional supplements and herbal remedies
Past surgeries
Other treatments you have received
Current body concerns and expected outcomes
Questions surrounding the procedure
How does the liposculpture procedure work?
During the tumescent liposculpture procedure, the contours of the body are re-sculpted by removing subcutaneous fat. The procedure is performed under local anaesthetic and mild sedation, and works best for removing stubborn fat deposits, which persist despite a regular exercise routine, as well as a healthy, balanced diet.
During the procedure, a thin, hollow tube known as a cannula is inserted below the skin through very small incisions and then used to break apart and vacuum out unwanted fat. The incisions will be made in the body's natural folds whenever possible in order to minimise the appearance of any resulting scarring.
A unique surgical plan will be designed for you to best suit your physical features and desired result, we will also be able to offer specific costs.
What can the treatment be used for?
Although people of almost any age can be good candidates for liposculpture, good skin elasticity is needed to achieve a smooth contour in any of the following areas:
During the liposuction procedure, a thin, hollow tube known as a cannula is inserted below the skin through very small incisions and then used to break apart and vacuum out unwanted fat.
Cheeks and jowls
Under chin/neck
Male chest
Abdomen
Arms
Thighs
Love handles
Saddle Bags
Knees
Ankles
Upper back / around the bra strap
How long does recovery take?
You can expect to experience some swelling and bruising following your liposculpture procedure. These side effects are completely normal and should subside within a few weeks. You will start to see the results of your treatment as your swelling goes down, although it can take up to six months to see the full effects of the surgery.
The experienced team at ICCM may recommend that you take around a week off work after your procedure. You will need to avoid strenuous exercise for up to three weeks, although light walking is recommended while your body heals.
You will need to wear a compression garment for a number of weeks following your procedure, to minimise swelling and aid recovery. If you have further questions around the best lifestyle changes to speed up your recovery, our team is on-hand to offer all relevant information.
What kind of results can I expect?
The results of this minimally invasive treatment are typically visible within 48 hours, with results continuing to improve over time. Once the results of the surgery are visible, you should notice a reduction in stubborn fat deposits and smoother body contours.
Frequently Asked Questions
Liposculpture works by removing fat layers, and the cannula used in the procedure works on multiple layers, beginning with the deeper ones and moving superficially. During this process, the angle and the direction of the cannula is altered every few passes from multiple directions. This will evenly deflate and shape the fat while some of it is being removed.
This procedure is quite safe. The most significant risk is having too much fat taken from the treatment area. This will leave a depression as the fat removed will be replaced by fibrosis, making it hard to re-correct.
You can avoid this possible risk by ensuring you opt for an experienced cosmetic surgeon like the team here at ICCM, who have performed this procedure many times to positive results. Our skilled and experienced team will assess your needs and goals, which will determine how much fat will need to be removed.
It is critical to understand each area of your body to ensure the right amount of fat is removed. Each section of your body can tolerate the removal of a certain amount of fat. This balance of harmony is the best way to achieve the most optimal results.
The cost of the procedure varies according to the area and extent of treatment. An accurate quote cannot be given without a personal assessment by the surgeon.
At ICCM, we provide the liposculpture treatment to those wishing to transform the shape and appearance of their body. If you would like to learn more about liposculpture treatment, please don't hesitate to contact us today.