Do you accumulate fat in your upper arms that make you feel self-conscious? You may see no effects of exercise and diet to your arm area, which is where the arm liposuction can be of benefit.
Read on to learn more from the experts in arm liposuction at ICCM and the suitability of this procedure for both men and women. Book an appointment with the experts at ICCM today to see if you are a suitable candidate for this procedure.
What is involved with the arm liposuction Sydney procedure?
Arm liposuction is a cosmetic medical procedure that requires a minimal amount of downtime. The arms are one of the areas of the body that our team can easily sculpt to reveal a pleasing look. Not to be confused with a form of weight loss, the arm liposculpture procedure performed by the experts at ICCM is a way to tone the arm, permanently removing stubborn fat and creating a more desirable shape.
Slightly different from the commonly used traditional liposuction, our arm liposculpture process is a way to remove fat that is less invasive, negating the need for general anaesthetic. Instead, fat is removed from the upper arms while patients are under local anaesthesia, creating a more comfortable removal process that gets you back to your routine much quicker.
What are the benefits of liposculpture for arms?
Liposculpture for arms is a way to remove stubborn fat from your arm area with minimal downtime and less bruising. This fat can cause the look of loose, saggy skin in the arms, and this procedure offers a way for patients to tone their upper body without too much of a dent in their busy schedules.
This form of liposuction that we use is a form of low-impact surgery that offers the following benefits:
The requirement of only a small incision, which helps for faster postoperative healing
More control over the fat removal process in the arm leading to better results
Minimal scarring
The use of local anaesthetic, which lowers the risk of adverse reactions
Increased skin tightening due to collagen production to reduce the appearance of excess skin
While fat removal tends to be a cosmetic surgery that removes fat cells, it should not be considered a form of weight loss. Arm Liposuction is for toning the body's stubborn areas.
Is excess fat in your arm causing you distress? Contact us at ICCM for a solution that will not take too much time out of your schedule.
I'm ready for arm liposuction, what should I do next?
The first step for those who want to improve the look of their arms is a personal consultation with the chief surgeon at ICCM. This assessment at our clinic is vital to ensure this particular cosmetic procedure is the right treatment to improve your look and lift your confidence levels.
We will assess the current state of your arms and confirm your suitability while making sure you are completely comfortable with the process moving forward. Quite often, many people feel a greater sense of confidence in their chosen cosmetic treatment after meeting with our knowledgeable team.
We will answer all of the questions you have about your surgery, and will run a patient assessment which can include:
A discussion about your weight goals and current or past medical conditions
Medications or supplements you are currently on
Past surgeries or cosmetic treatments
Concerns about your weight and expected outcomes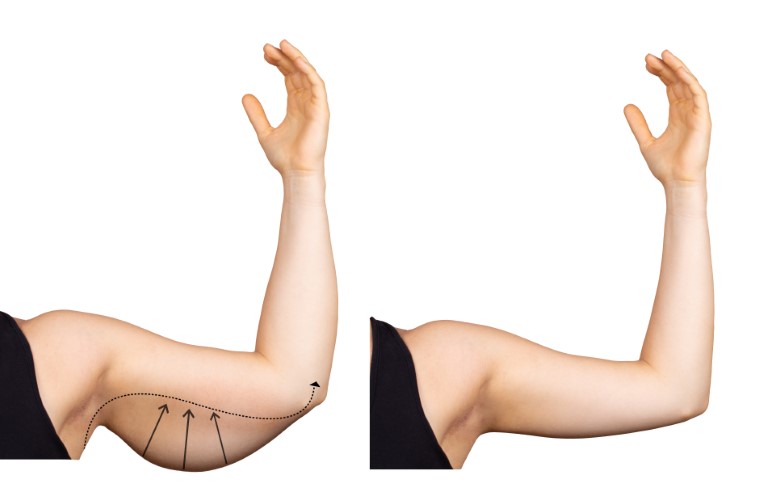 The cosmetic clinic at ICCM offers state of the art patient treatment to rectify your body concerns.
How much does arm liposuction treatment cost?
All of the cosmetic procedures offered at the ICCM clinic vary due to the differing nature of their complexity. As a result, we will determine the specific cost of your procedure and the length of your recovery time during your consultation.
We will provide you with an exact, customised quote with no-obligations and answer your questions, discuss risks, and provide a clear idea of what to expect from your improved look.
As a rough starting point, the entry price of the procedure begins from $4,500 or $30 per week.
Frequently Asked Questions
Our form of arm liposuction utilises a small cannula to create specific sculpting that will offer the toned look your desire for your arms. With less fat, you will have a shape that is natural, while also being more desirable.
The use of local anesthesia allows you to leave the surgery within 30 minutes of completion of your procedure. Those who work in a desk job or similar should be able to return within two to three days.
The fat cells removed will not return and maintaining a healthy lifestyle will mean serious longevity from your results.
If there is, it will be minimal. This process improves skin elasticity and only requires a small cannula and minimal incision, significantly lowering the risks of scarring.
The most common risk is often due to too much fat being taken. This is a non-issue due to the experienced team at ICCM. Both men and women undergo this procedure to help their appearance and are very safe in the hands of an experienced cosmetic surgeon. The team at ICCM have performed many fat removal surgeries for arms and are experienced enough to ensure they reduce all chances of risk.
Before proceeding with any surgical procedure, patients should seek a second opinion from qualified healthcare practitioners.
The information on the website is for general guidance only and cannot be used as a basis to make a surgical decision, an initial consultation with our surgeon is required to help patients make an informed decision before proceeding with any surgical procedure.