It is amazing the effect the eyes can have on our overall appearance and confidence. Many people look tired and unapproachable due to the natural ageing of the eyes. Upper and Lower Blepharoplasty can help by restoring the youthful beauty of your eyes.
Slight improvements can make significant differences. By simply removing excess skin and/or bulging pockets of fat will make a huge improvement to the eye aesthetic, resulting in a younger, and better-rested appearance.
Looking for a better-rested appearance? Upper and lower blepharoplasty can help.
What are the benefits of the upper and lower eyelid procedure?
Tightening the upper or lower eyelids can reduce wrinkles and eye-bags
Minimal and discreet scarring as incisions are hidden in the crease of the eye
Rejuvenation of the eyes can have an impact on the whole face
Only light sedation via local anaesthetic required
Full recovery in only 1 – 2 weeks
Medicare rebate may apply if vision is impaired
How do you know if this procedure will help?
This one hour (on average) procedure will correct:
Excess skin covering the natural eyelid fold
An obstruction of your vision
Dark circles, bags, excess skin or puffiness under the eye
Fine wrinkles in the lower eyelid
A tired appearance even if you are well-rested
To determine if the upper and lower blepharoplasty is suitable for you, a consultation with our cosmetic doctor is the first step. At this time, we will assess your overall eyelid contour, excess eyelid skin, and the condition of the muscles. From here, we will be able to determine which path forward will help achieve the look you desire.
What does upper and lower eyelid surgery cost?
A starting guide to help with your planning for surgery costs is as follows:
Upper Blepharoplasty (eyelid reduction) – from $3,950 or $30/Week
Lower Blepharoplasty (eyelid reduction) – from $4,950 or $35/Week
Prices may vary based on your specific needs. Our experienced team will be able to offer an exact quote tailored to you after your consultation. This is a no-obligation pricing, and you will have plenty of time for considerations and questions before confirming the procedure.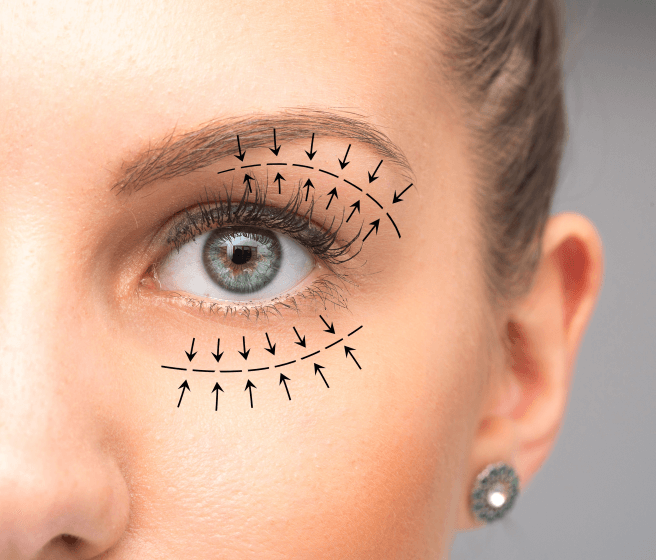 You may be surprised by the dramatic rejuvenation the upper and lower blepharoplasty can have on your face.
Frequently Asked Questions