Is the process of ageing causing your eyelids to sag, creating a tired or older appearance, possibly even impeding your vision? Two procedures offered by ICCM, in particular, are requested by those who wish to rectify these issues. Either the Blepharoplasty and Brow Lift Sydney procedures may be suited to those who are bothered by droopy eyelids and brows.
Ageing is most noticeable around the eyes and droopy eyelid skin makes you look tired, much like a brow descent creates an angry appearance. While these procedures both have the goal of enhancing your look and creating a younger and refreshed appearance, they are indeed very different.
These procedures can also help rectify fields of vision impeded due to overhanging skin or increased pockets of fat. When deciding which procedure is best for you we must analyse the cause of your specific problem. Read on to understand a little more about each procedure.
Treatment options for the eyelids
Ageing of the eye region is the result of changes in bone structure, decreased skin elasticity, and volume loss, which creates excess eyelid skin and brow droopiness. The brow lift procedure stabilises the eyebrow, improving the upper eyelid position while improving the skin around the upper eyelids or sections that may hang over the eye socket.
Blepharoplasty more directly removes excess skin on the eyelid, creating a defined eyelid crease and more youthful look. This creates a refreshed eye contour and can be combined with a range of other facial procedures.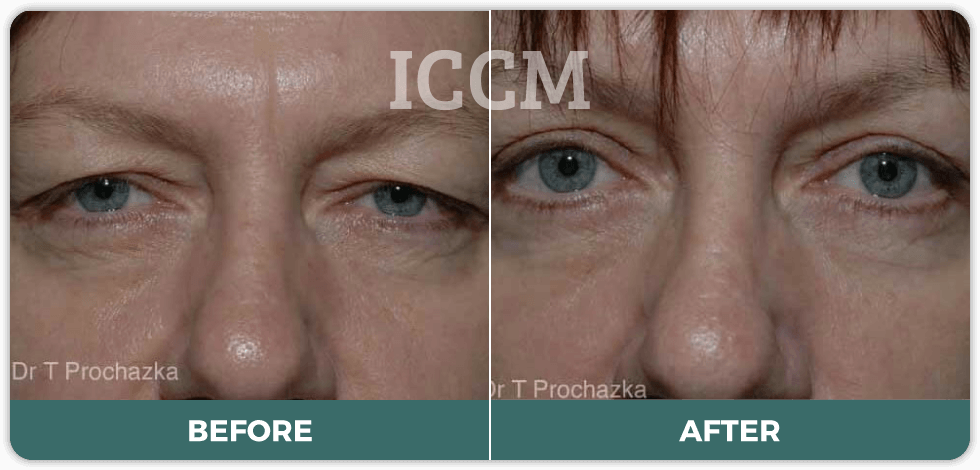 Deciding which treatment is right for you
Understanding which of these two procedures is better suited to your needs begins with the correct diagnosis of the issue. If excess upper lid skin or sagging is the primary issue, the best cosmetic outcome could be both procedures in tandem, or just one.
The key to deciding your goals is knowing what your ideal brow position is. For a female, the general rule is one centimetre above the bone of the eye socket. For males, the eyebrow should sit along the eye socket's upper bony margin.
Your eyebrow may already be in one of these positions but excess skin on the upper lid still creates a problem. In this case, the upper eyelid blepharoplasty can help.
If raising your brows to a natural level with your fingers rectifies the drooping eyelids issue, the brow lift will likely be the right path forward.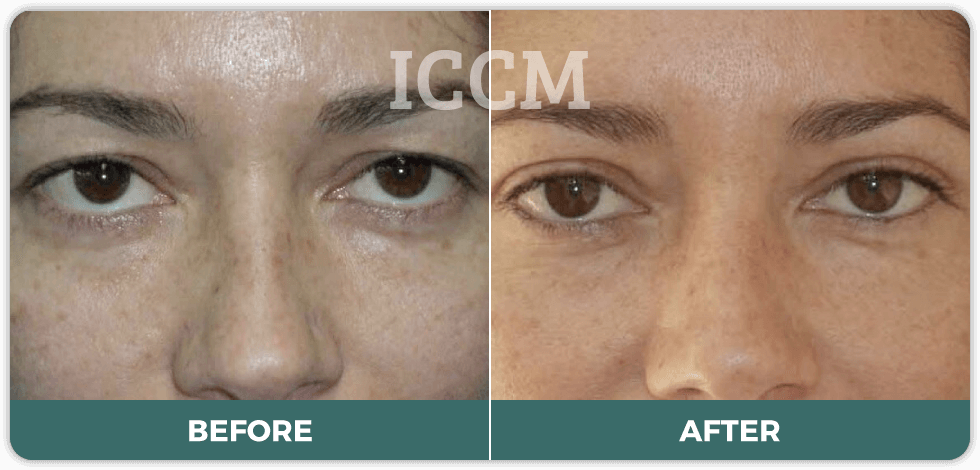 Speak to the experts at ICCM today to understand the right cosmetic surgery path for you
The next step in your information gathering phase will also determine the best path forward for you. Booking a consultation with the expert team at ICCM allows our knowledgeable and experienced surgeons a chance to assess your situation and determine which of these two procedures, or possibly a different one altogether, will bring you to your aesthetic goals.
With thousands of successful procedures as part of the portfolio, the team at ICCM cosmetic surgery Campbelltown or Sydney CBD will work with you and give you unwavering confidence that the chosen path forward is right for you. You will also have the full support of all staff on every step of your cosmetic journey. Speak to us today!
Don't forget to share this via , , , , , , , , , , , and .