What is Plasma Pen?
Plasmage Plasma Pen is a TGA approved skin tightening treatment that uses fractional plasma energy to remove excess skin tissue. Fractional Plasma ensures patient safety via a controlled plasma arc that heats skin tissue quickly, causing it to evaporate rather than burn.
The Plasmage device can target a large range of skin conditions across various regions of the face and body. Read on to learn why plasma pen treatments are a popular option for skin tightening.
The treatment effectively lifts and tightens excess or wrinkled skin, removing the need to undergo surgical procedures and avoiding scars. This procedure not only reduces lines and wrinkles but also targets puffiness, sagging skin, acne, rosacea, scarring, skin tags and moles.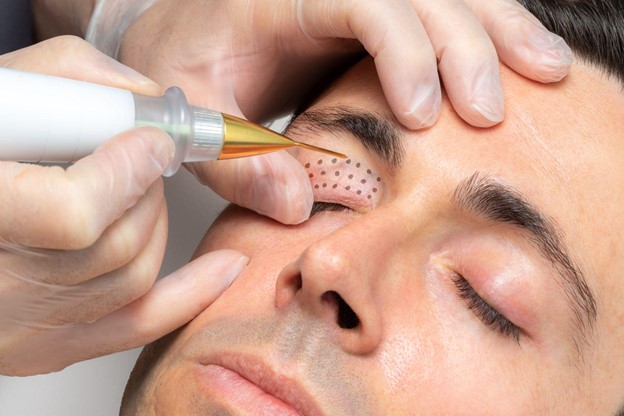 From fine lines to sun damage, stretch marks and more, revitalise your skin with help from ICCM.
The benefits of a Plasmage Plasma Pen treatment
The primary benefits of non-surgical plasma energy include:
Long-lasting and even results
Immediate results
Safe for use on all skin types
No scarring
Instant contraction and tightening
Local anaesthetic helps to create minimal levels of discomfort
The procedure only takes 30 to 40 minutes
Quick recovery time
Avoids risks associated with surgical blepharoplasties such as bleeding or haematoma
Renewed skin in as little as 4 weeks
Type III (mature) collagen is created post-treatment
A cheaper option than surgery
What areas can be treated?
The plasma pen is very versatile, treating the following skin concerns:
Upper and lower eyelids
Above the brows
Deep wrinkles
Smokers lines
Neck sagging and wrinkles
Abdomen skin tightening
Stretch Marks
Skin Lesion Removal
Saggy underarms
& more!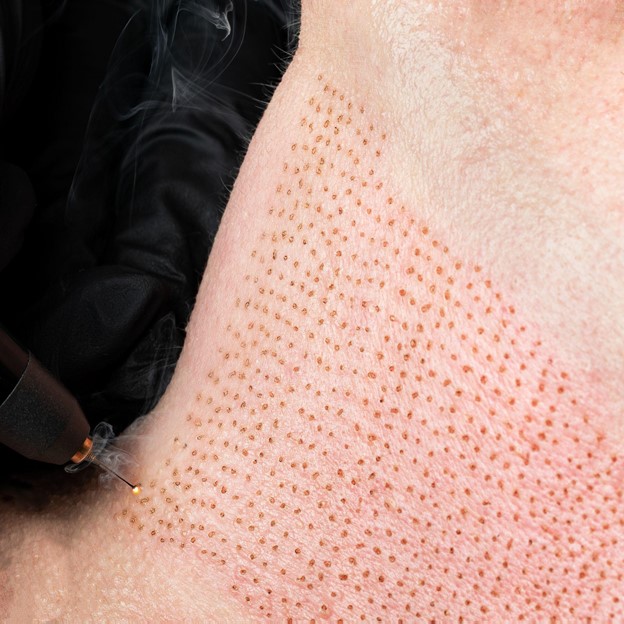 The target area of the skin receives a low impact treatment to help improve issues revealing a refreshed look.
How is the Plasma Pen procedure done?
The Plasma Lift is a very simple treatment that involves the following steps:
Ionised gas creates a small and precise arc of plasma energy
The plasma arc creates a series of small dots on the skin
This triggers an immediate tightening, lifting and contouring of the area
The skin is immediately renewed to reveal fast results
How many treatments do I need?
Your initial consultation with the experts at ICCM will provide a clearer indication of how many treatments you may require. In most cases, only one or two treatments are needed; however, skin laxity and your biological response to the therapy may deem more sessions necessary.
How long will the treatment last?
The Plasma Lift and removal of excess skin can be very quick, often only requiring around 30 - 40 minutes, making this a popular non-invasive alternative to other skin treatments.
What's the recovery time for the Plasma Pen procedure?
​​​Roughly seven days of downtime after the treatment may be required to see any swelling in the treated area subside. However, any expected swelling and redness will be at a minimum, and you should have no issue returning to your normal routine straight away.
How much does Plasma Pen cost in Sydney, Australia?
There are many variables that will affect the number of treatments and costs of your Plasma Lift, but prices often begin at $490 per area. The size of the treatment area and the amount of excess skin will determine how in-depth your session will need to be, and all of this will be clear after your initial consultation and assessment of your skin condition with our team.
From there, we will provide a detailed, no-obligation quote for your specific plasma tightening procedure.
Why choose ICCM
With many years of both surgical and non-surgical cosmetic experience, the team at ICCM are experts when it comes to finding the right solutions to achieve your aesthetic goals. We offer a range of non-surgical and surgical procedures and will work with you to find the best solutions for deep wrinkles and other skin problems, ensuring minimal downtime and complete comfort along the way.
Frequently Asked Questions
Do you have more questions about this procedure? Our helpful FAQ section may provide the answers:
Unlike CO2 lasers, the Plasma Pen never touches your skin, meaning less chance of infection. The downtime is also generally quicker than CO2 lasers, which can take up to two weeks before applying makeup is allowed. With a Plasma Pen, there is roughly half that amount of healing time.
​​A topical or local anaesthetic can be applied before treatment to numb the skin, reducing any discomfort.
The healing process will take ​​​roughly seven days for any swelling in the treated area to subside. Swelling and redness is expected and completely normal and should not impact your normal routine.
The following prospective patients may not be suited to this procedure:
Patients with a dark complexion, due to a higher risk of hyperpigmentation
Those with active skin diseases (dermatitis, rosacea flares, etc.)
Patients with a history of hyperpigmentation
Anyone with a history of keloid or hypertrophic scars
Patients with a pacemaker
Present and active colds sore
Patients who are pregnant or breastfeeding
Anyone on Roaccutane
Results are instant; however, it can take up to 12 weeks for the collagen levels to mature and reveal an optimal look.
Plasma Pen Before and After Photos