Procedure Time
Approx 60/90 Minutes
Back to Work
Approx 2/3 Days
Anasthetic
Topical
Duration of Results
Up to 2 years
Full Recovery
7/14 Days
Sensitivity Period
Approx 2hrs
How many Treatments?
Depends on skin health/type – revisit at 4-5 months
Results
Improvements visible 4-10 days post treatment
What Can Plasmage Do For Me
Plasmage plasma pen is a non-surgical, non-invasive treatment offering a tonne of benefits and less risk than cosmetic surgery:
Immediate, long lasting WOW factor results.
End results are natural with no residual scarring.
Instant contraction and tightening of skin fibers for an immediately visible improvement.
Topical Anaesthetic is applied 20 to 30 minutes prior to treatment so there are minimal discomfort.
Helps in tightening your loose skin while also combating wrinkles and loss of collagen.
Perfect for hooded (baggy) eyelids and other delicate areas.
Recovery time is minimal as there is no scalpel, sutures, or ablative laser required.
Avoids risks inherent with surgical alternatives – no bleeding, incisions or scars.
After 4−8 weeks, the skin is fully renewed and rejuvenated.
Blefaroplasma
Same patient < 6 months later
Blefaroplasma
1 session: before then 10 days
One mole removed as well
Blefaroplasma
1 session: before and 15 days later
Blefaroplasma
1 session: before, right after the treatment and 10 days later
Blefaroplasma and fine lines
After 1 session, 3 weeks later
Blefaroplasma
1 session: before and after one month
Wrinkles, barcode
1 session: before and one month later. Upper lips with fraxel repair and chin treated with blepharoplasma settings
Xanthelasma
1 session: before and after one month
Xanthelasma
After 1 session, 10 days later
Sringomas
After 1 session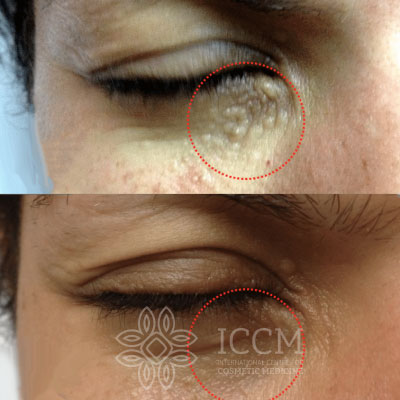 Calcinosis cutis
1 session: before, right after the treatment and one week later
Warts
After 1 session, 30 days later
Although known for its unique ability to improve the eye area, PLASMAGE ® can be used to treat a number of concerns including:
Acne scarring
Beauty marks
Loose/excess skin –post-weight loss or pregnancy
Fibromas
Fine lines and wrinkles
Hyperplasias
Lentigo
Surgical scars
Skin laxity
Stretch marks
Skin tags
Various skin lesions (benign moles)
Warts and verrucas
Xanthelasmas (cholesterol deposits)
Wondering if You
Qualify for Plasmage?
Plasmage® has been developed to treat delicate areas safely, like upper and lower eyelids, where lasers and radio surgical units cannot.
Plasmage® delivers plasma energy to the skin, generated by the ionization of the gas in the air. These bursts of energy sublimate (evaporate) the target skin tissue without ablation or side effects to the surrounding skin. It is the perfect tool to treat many aesthetic and dermatological conditions.
Plasmage Plasma Pen, is a revolutionary approach to non-surgical cosmetic treatments and has completely revolutionised reconstructive eye lift treatments. You can achieve a dramatic result with minimal downtime at a fraction of the cost of a surgical procedure. In as little as one session, a fibroblast plasma pen treatment is effective for a wide variety of skin types and areas of the face and body – but especially good for removing excessive eyelid skin and wrinkles.
Kathy Truong is a qualified Advanced Dermal Aesthetician and accredited trainer with intensive industry experience.
Our patients' safety and well-being are always our foremost priority.
Reasonable, realistic pricing in the face of a competitive and rapidly evolving market.
Ideally located in central Sydney on Macquarie Street (famous as Sydney's leading "specialist street"), close to transport and parking.
Dermal Science Specialist
Kathy is a qualified Advanced Dermal Aesthetician and accredited trainer with intensive industry experience. She is driven by a passion for skin, health, nutrition and all elements of well-being maintenance.
In addition to her extensive practical experience, she has also recently deepened her theoretical knowledge of health and wellness, graduating with an Associate Degree in Dermal Science.
You can trust your skin is in good hands!
Kathy is a leading specialist in non-surgical dermal treatments. She also works closely with our surgeons to deliver amazing post-surgical results and the complete cosmetic experience.
Book Today and Get 30% OFF Your Treatment
| | |
| --- | --- |
| Full Fractional Face-lift | $2,490.00 |
| Full Neck Lift | $1,390.00 |
| Upper Blepharoplasty (Upper Eyelids) | $850.00 |
| Lower Blepharoplasty (Lower Eyelids) | $850.00 |
| Upper & Lower Blepharoplasty | $1,390.00 |
| Nose Contouring | $750.00 |
| Crow's Feet | $490.00 |
| Perioral Wrinkles (Marionette Lines and Nasolabial Folds) | $490.00 |
| Preauricular Wrinkles (In front of Ear) | $490.00 |
| Top Lip / Smokers Lines | $490.00 |
| Forehead/Frown Lines | $490.00 |
| Chin | $490.00 |
| | |
| --- | --- |
| Tummy | From $990 |
| Stretch Marks | From $500 |
| Back of hands (both) | $1,390.00 |
| Skin Lesions (Skin tag/mole) | $75 ($25 each after) |
20% off second area. 30% off third area.
Payment plans in weekly installments are available for treatments
over $2000 – starting at $30/week.
Frequently Asked Questions
Level 14 Park House 187 Macquarie Street
Sydney NSW 2000
Monday 8:30 am – 5:00 pm
Tuesday 8:30 am – 5:00 pm
Wednesday 8:30 am – 7:00 pm
Thursday 8:30 am – 5:00 pm
Friday 8:30 am – 5:00 pm
Saturday Closed
Sunday Closed
1/251 Queen Street
Campbelltown NSW 2560
Monday Closed
Tuesday 8:30 am – 5:00 pm
Wednesday 8:30 am – 7:30 pm
Thursday 8:30 am – 5:00 pm
Friday 8:30 am – 5:00 pm
Saturday 8:30 am – 2:00 pm
Sunday Closed
Complete the Enquiry Form Below To Get Started