The upper lip lift or shortening, also known as a Lip Lift, is an effective and relatively simple procedure to restore balance and provide a more youthful appearance to the upper lip. It avoids the excessive "trout pout" appearance sometimes seen when fillers are used in this area.
If you are looking to shorten the length of your top lip or restore a more youthful aesthetic that has been lost with age, this procedure may be well suited to you.
You can change your facial aesthetic with the upper lip lift as performed by the talented surgeons at ICCM.
Why should I consider an upper lip lift?
When it comes to cosmetic procedures, most patients are looking to combat the effects of time. Aging often means the portion of the upper lip that lies between the nose and the lip border (vermillion border) tends to get longer and flatter, giving it a tired look. This is due to the progressive loss of collagen and elastin in the peri-oral skin, resulting in volume loss and flattening of The Cupid's Bow and Philtral Columns.
Some people are also born with a naturally longer upper lip, and may wish to shorten it to achieve a more balanced aesthetic.
If you suffer from this condition, upper lip lift surgery is a quick and easy way to address this problem and restore a more youthful look to your appearance.
What happens as part of the procedure?
Upper lip shortening is a relatively simple procedure where we remove about 3 or 4 mm of carefully marked, upper lip skin, just beneath the nose. This has the effect of shortening the distance between the nose and the lip border (vermillion) to give the upper lip a gentle "pout" and restore the "cupid's bow".
Like upper eyelid surgery, the scar is hidden and is generally very well concealed. There is little or no pain, and the entire procedure takes approximately 40 minutes in most cases. Lip lift results will usually last for 15 – 20 years.
What should I expect as part of the consultation?
A personal consultation with our cosmetic surgeon at ICCM is the first step for any patient considering a lip lift. We will assess your physical and emotional health, discuss your aesthetic goals, and address any questions or concerns you may have.
Issues you should be prepared to discuss during the consultation include:
Medical conditions, both past and present
Current medications, including nutritional supplements and herbal remedies
Previous surgeries
Other treatments you have received
For a more complete rejuvenation, we may discuss additional procedures that can be performed along with your lip lift surgery to create your desired aesthetic goals.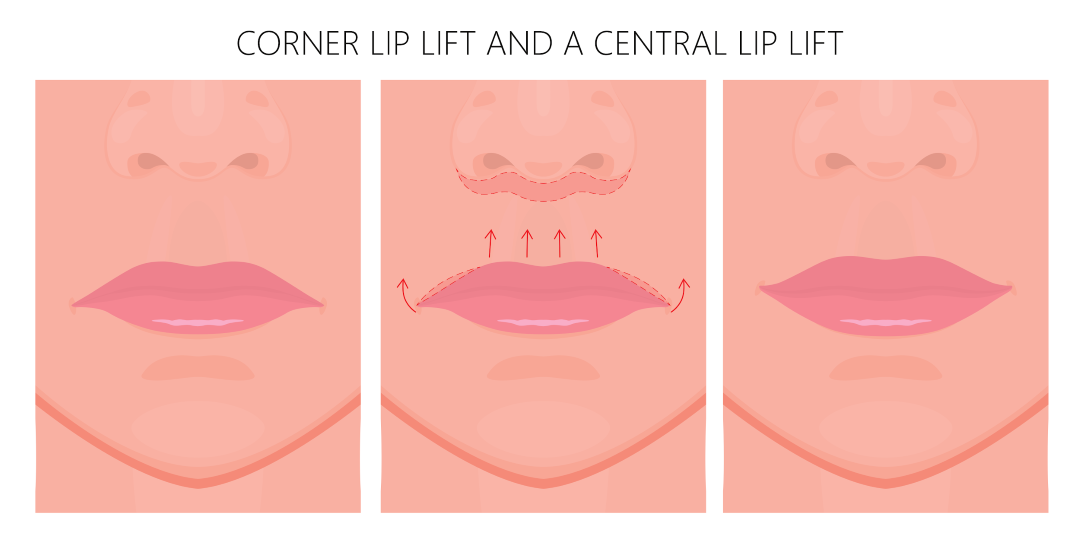 Upper lip shortening is a relatively simple procedure that has the effect of shortening the distance between the nose and the lip border.
What does the Lip Lift cost?
A lip lift procedure costs $4,500 and is performed by Dr Tony Prochazka who has over 15 years of experience in cosmetic surgery and more than 20 years in non-surgical injectable treatments.
The team at ICCM ensure all patients' safety and well-being as the top priority across all of the procedures we offer. We also provide reasonable, realistic pricing via our ideally located central Sydney clinic on Macquarie Street.
Frequently Asked Questions
Initial swelling and bruising associated with this procedure are generally settled within a week at which time the sutures will be removed. Potential risks and complications are few and are discussed at the time of the initial consultation. Most patients are able to go back to work within seven days.
Although thousands of people undergo lip lifts each year and experience no major complications, all surgical procedures do carry some degree of risk. It is essential that you are well informed of these risks when considering a lip lift.
The discussion of potential risks and complications is one of the most critical aspects of patient consultation. During your consultation, we will discuss these potential complications with you, listen to your safety questions, and offer recommendations on how to minimise your chance of risk.
You will be issued pre-operative instructions immediately after you make your decision to proceed. It is essential to read and understand these instructions when preparing for your lip lift surgery in order to ensure the best possible results.
For your comfort and convenience, the lip lift procedure will take place under local anaesthetic with intravenous sedation. It is better known as "twilight sedation." We will carefully monitor your physical status throughout the operation and during your recovery.
The modified version of the upper lip lift method creates a broader, more attractive smile by incorporating the techniques of a standard upper lip lift and exposing the top regions of the teeth while also increasing the volume of the upper lip while placing the scar deeper within the nostrils.
Many people say that the ideal lip ratio is 1-1.6, but there are a few factors that influence this ratio which needs to be taken into account, along with the fact that everyone's facial aesthetic is different. There is no such thing as the correct ratio so to figure out the look that will best suit you, it is better to consider the balance between the white lip and the rest of your facial features.
This could take into account bone definition, shape of the face and length of your teeth. The white lip often sits between 9mm-27mm in length, so stating a blanket perfect lip ratio is impossible and not based on a standard formula. In most cases, the ideal lip length will sit between 9mm-18mm.; however, this will depend entirely on the overall features of the face. Our talented team will customise the right look for your features during the consultation process.
Before proceeding with any surgical procedure, patients should seek a second opinion from qualified healthcare practitioners.
The information on the website is for general guidance only and cannot be used as a basis to make a surgical decision, an initial consultation with our surgeon is required to help patients make an informed decision before proceeding with any surgical procedure.
Why your lip enhancements should be performed at ICCM
Experience: Dr Prochazka has over 15 years of experience in cosmetic surgery and over 20 years in non-surgical injectable treatments
Caring Attitude: Our patients' safety and well-being are always our foremost priority.
Pricing: Reasonable, realistic pricing in the face of a competitive and rapidly evolving market
Convenience: Ideally located in central Sydney on Macquarie Street (famous as Sydney's leading "specialist street"), close to transport and parking