Male breast reduction helps to improve the appearance of the chest
At the International Centre for Cosmetic Medicine, we provide a comprehensive range of surgical options, including male breast reduction surgery for those suffering from gynaecomastia, to ensure you are able to have the body you deserve. To treat gynaecomastia, Sydney men can opt for male breast reduction surgery, to improve the appearance of the chest.
The gynaecomastia procedure helps to effectively reduce the size of male breasts and goes a long way in improving the overall contour of the chest area. The procedure can relieve pain and discomfort, and enjoy minimal postoperative downtime.
Am I a good candidate?
Men with excess breast tissue can find a more toned appearance thanks to this surgical or invasive procedure. The male breast reduction procedure may be suitable for those who:
Have excess fat in the chest area that is unaffected by exercise and diet
Wish to achieve a toned, flatter chest
Feel a lack of confidence due to man boobs
Have tried other reduction options before turning to surgical treatment
What can the treatment be used for?
When diet and exercise alone fail to get rid of excess fat in and around the chest area, it's a common sign that you may suffer from gynaecomastia. Although hormone imbalance is often the most common cause, excess breast tissue in men can be caused by a variety of factors.
These include:
Genetics
Disease
Certain medications
Obesity
When it comes to gynaecomastia surgery, Sydney men who suffer from swelling in the breast tissue and who have tried other treatments without success may benefit. If you are considering the procedure, we recommend that you are in overall good health, are a non-smoker, and at a healthy and stable weight.
If your gynaecomastia is the result of prescription medication or other drugs, for example, steroids, you will need to be entirely free from these and maintain a stable weight range to ensure the results of your surgery are long-lasting.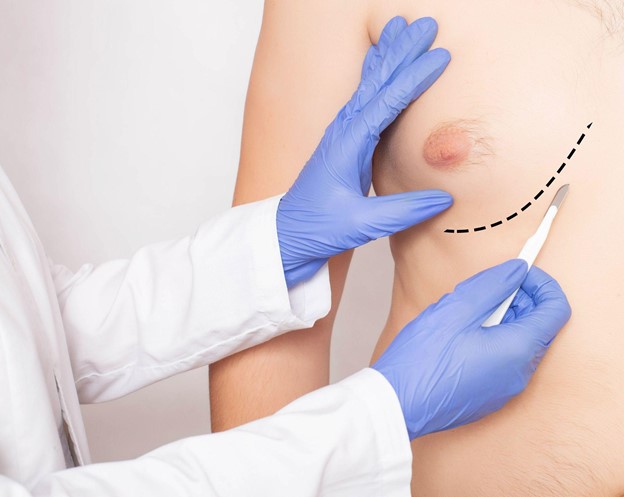 How does gynaecomastia surgery work?
Before we perform the procedure, we will perform a physical examination in order to evaluate your breast tissue properly. In some cases, tests may be performed in order to confirm your diagnosis. Treatment for gynaecomastia may include liposuction, in which breast fat is removed, or mastectomy, a surgery in which the breast gland tissue is removed.
Recommending liposuction or excision
Depending on the findings from the clinical examination and ultrasound assessment, your doctor will either recommend liposuction to remove fat tissue, an excision (or surgical removal) of glandular tissue, or a combination of both of these treatments.
Process for liposuction
In the case of liposuction, your surgeon will insert a narrow tube through tiny incisions in order to loosen and remove the tender breast tissue. The fat is suctioned out of the body.
Process for excision
If your surgeon decides that glandular breast tissue and skin needs to be removed from the breast area, excision techniques will be used. In some cases, the size of the areola will be decreased, and the nipple may be repositioned.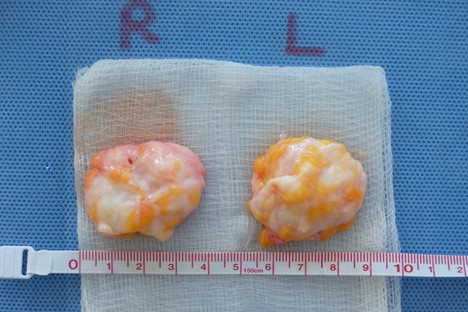 What's the next step?
If you are concerned about swelling in your breast tissue and want to learn more about gynecomastia surgery -  we recommend that you come in for a personal consultation.
A one-on-one consultation with your surgeon is the first step for any patient considering a procedure for gynaecomastia.
We will assess your physical and emotional health, discuss your aesthetic goals, and address any questions or concerns you may have.
How can ICCM help?
To find out more about the male breast reduction procedure, the risks involved, or any of our other body treatments, please don't hesitate to get in touch to schedule your consultation today. Our team is happy to answer any questions you might have about the procedures and non-surgical treatments that we offer. Boost your self-esteem with our help today.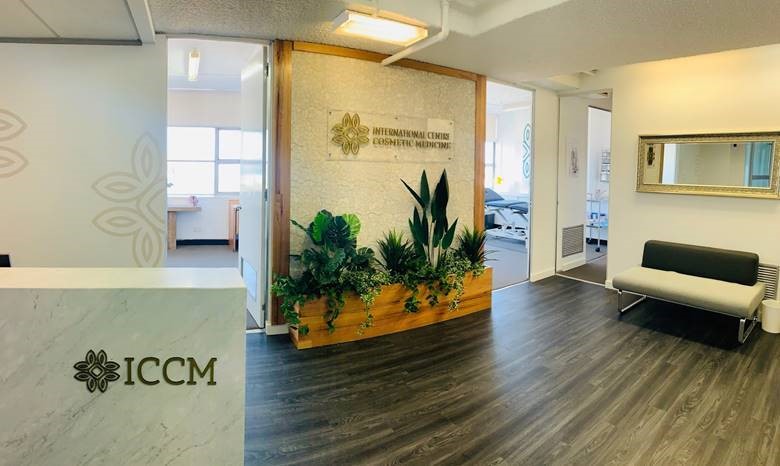 How much does male gynaecomastia surgery cost in Sydney?
While the costs will vary from patient to patient depending on their unique circumstances, we believe in ensuring all our patients understand what goes into the cost of male gynaecomastia reduction surgery.
That's why we offer initial consultations for you and our experienced plastic surgeons to discuss your treatment options and your goals and to provide you with an accurate quote.
Our cost of gynaecomastia treatment involves:
Treatment from $4,999 or $30/Week
Quote includes surgeon's fee, ICCM theatre fee, anaesthetic, compression garment and all follow-up reviews
No hidden hospital fees
Medicare Rebates are available if the breast gland is removed
Frequently Asked Questions
If you have more questions about this form of cosmetic surgery, our helpful FAQ section may contain the answers:
Gynecomastia can occur as early as puberty, but in some cases, resolves without treatment within six months to two years. When the condition persists beyond age 17 (in up to 20 per cent of individuals), men may look to have the excess tissue removed to achieve a more masculine chest.
Surgery is often a good option for men who suffer from swelling in the breast tissue and who have tried other treatments without success. If you are considering the procedure, we recommend that you are in overall good health, that you are a non-smoker and that you are at a healthy and stable weight.
Gynaecomastia is a very common condition caused by a hormonal imbalance, and if you do experience it, we recommend having it investigated to identify the cause and ensure there are no tumours. In cases where the cause of your condition is glandular tissue and fat, then there is no cause for concern. This procedure is available to treat the condition of gynaecomastia, and not a process to achieve a great body. The male chest area can enlarge with weight gain, which is better combated with healthy lifestyle changes rather than gynaecomastia surgery.
Once your surgery is complete, your incisions will be dressed and you may be given a surgical garment or surgical vest to wear in order to minimise swelling and provide support as your body heals. Small tubes may be placed under the skin in order to drain excess fluid and blood from the body.
Your surgeon will explain how best to take care of your surgical wounds to achieve minimal scarring effects, and you may be prescribed medications to help with pain relief and discomfort. You will need to schedule some follow-up appointments during the healing process so that your surgeon can check on the progress of your recovery.
When compared with other types of surgery, gynaecomastia treatment only involves tiny incisions, and these will usually fade away almost entirely over time, leaving little to no scarring.
It is recommended to only resume light exercise and avoid heavy lifting after your procedure, building up to your usual standard of training slowly and at a rate that is comfortable. It is best to listen to your body, avoid exercise or not push too hard if you are experiencing pain during the healing period post-surgery.
Gynaecomastia surgery is a very safe procedure to remove excess fat that has been performed many times by our team. Patients often experience exceptional results, and the technological advances in cosmetic surgery have improved the liposuction procedure making it far more straightforward. As a result, the risks are low and mitigated by our skilled team at ICCM.
As with all procedures, every invasive procedure carries risks; in the case of gynaecomastia treatment, the biggest threat is Seroma. This involves a situation in which fluid remains in the skin becoming infected. The fluid can, however, be drained and treated with antibiotics in the unlikely event of its appearance.
You should be able to see the results of your treatment immediately after the procedure, and they will become more apparent as your swelling subsides. It can take up to six months to achieve the final results, at which time you will enjoy a flatter, firmer chest area when compared with the excessive enlargement previously.
You may notice some scarring following surgery, although these will generally fade over time. Your surgeon will do their best to conceal as many scars as possible within the natural contours of the body.
Many men feel the results are very positive for this day surgery procedure. Gynaecomastia is a condition that can cause negative effects on one's confidence and self-esteem, therefore the removal of man boobs can be life-changing for many patients.
Gynaecomastia surgery is covered by Medicare with appropriate health fund cover when deemed medically necessary. Some rebates may be claimable, reducing out of pocket costs; however, this can differ case-by-case.
Before and after results for gynaecomastia surgery
These cosmetic surgery patients have undergone the man boobs medical procedure here at ICCM with the following results:
ICCM Introduces Dr Raphael Basilio
Gynaecomastia - What Is It? Causes & Treatments